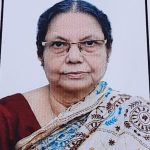 Designation: Associate Professor
Department: Philosophy
Qualification: M. A. (C.U.), Ph. D. (C.U.)
Area of Specialization: Western Philosophy, Psychology, Religion, Applied Ethics.
Email:- rinamukh1985@gmail.com
Achievement/Awards:-Ph.D
Research Interest:-Psychology
Teaching Experience:- 36 years 10 months
Journals
" Iswarer Sambhavparata samparkita Leibniziya Yukti"(a paper in bengali on the Leibnizian critique of the ontological argument) published in Darsan ,42 nd Year, No.1,B.S.1402(December 1995)
"On Anxiety Dreams '' published in the journal " The journal of Indian Academy of Philosophy",vol.XL1 41,NOS 1&2,2002,pp72-77( released in 2004)
Books
Ph.D thesis published in book form:-
"Some proofs of the External World: Interpretation and Criticism ". In the year Nov.2017 by MAHA BODHI BOOK AGENCY.