History
Courses
Outcome
Faculty
Intake
Infrastructure
Teaching
Assessment
Resutlts
Events
Tab content
Tab content
Tab content
Tab content
Tab content
Tab content
Tab content
Tab content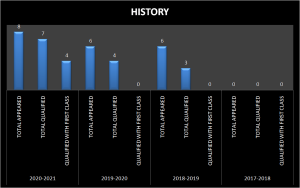 About The Department
The journey of the Department of History began from the inception of the College in 2013. At present, it has three faculty members, and the intake capacity of students for a fresh batch is thirty three.
In the undergraduate course offered, students are given an opportunity to have a comprehensive understanding of Indian history from pre-historic times to the end of the twentieth century. There are also papers on Ancient Civilizations, various stages of European history, Contemporary World, and modern histories of the Far East and South East Asia.
The department aims to instill among the students a critical perspective of the past which will help them make a better sense of the present.
Classroom learning is made participatory with occasional presentations by students. Lectures are enhanced with the help of visual-aids. Visits to the museum have been organised with the objective of generating a passion in the subject. The department now has a library with a good collection of books.
Faculty