Add on course entitled "Sanskrita o Sanskriti" jointly by IQAC, Department of English, Philosophy and Bengali (sept 14 to oct 05, 2023)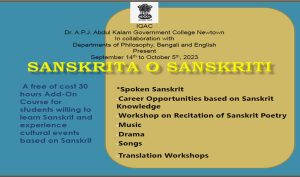 Value added course of Bio-informatics, by Department of Botany

One day seminar for administrative skill enhancement
On 21.02.23, 2-30 pm, Room no 19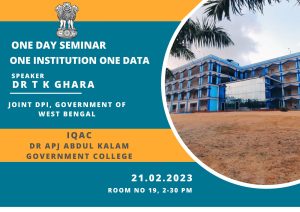 Inter college Instagram Photostory Competition organised by Department of Botany and IQAC winners: For details of the competition click here



Inter college Instagram Photostory Competition organised by Department of Anthropology and IQAC winners: For details of the competition click here or scan the code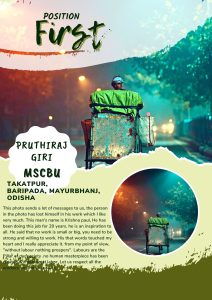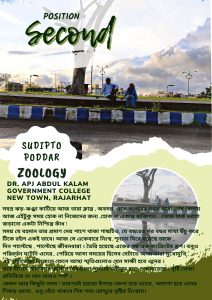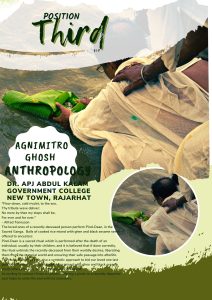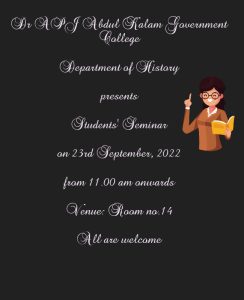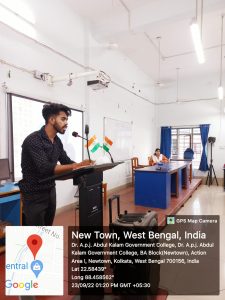 The Department of History has organised a student's presentation programme on 23.09.22 at Room no 14 from 11:00 am onwards. Students have enthusiastically presented their topics of choice from the curriculum.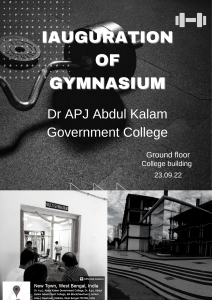 The multigym of the college is now open for the students. It is inaugurated on 23.09.2022 by the Principal. The multi gymnasium marks our firm trust on the holistic training of mind and body of our students for a better future.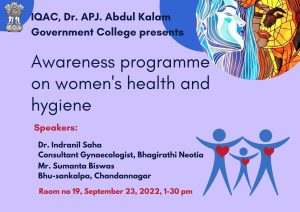 With the financial assistance of the CSR group of Ambuja Neotia our college has two Sanitary napkin vending machines installed for the students and faculties. As part of the programme on Women health and hygiene, an awareness programme is held on 23.09.2022. Two eminent speakers, first, Dr. Indranil Saha, consultant gynaecologist of Bhagirathi Neotia and an activist on menstrual health, Mr. Sumanta Biswas of Bhu-sankalpa, Chandannagar has delivered lectures.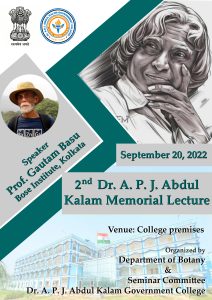 Second Dr. APJ. Abdul Kalam Memorial Lecture on 20th September, 2022. The speaker to this seminar is Prof. Gautam Basu, Eminent Scientist, Bose Institute, Kolkata.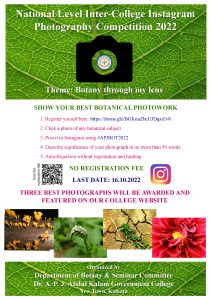 Department of Botany is organising an inter-college Instagram competition "Botany through my lens"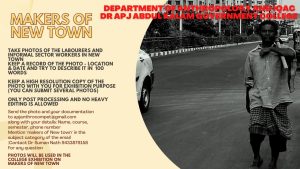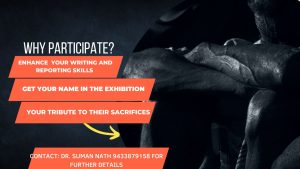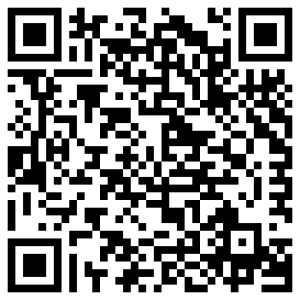 Then Department of Anthropology is doing a photographic and ethnographic documentation on the migrant labourers of the New Town as part of their extension programme of studying Visual Anthropology. The Programme is known as "Makers of New Town." The Details of the programme is available here  (or scan the QR code)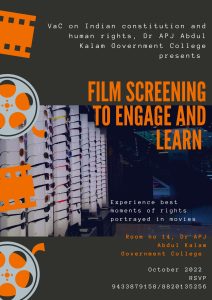 As an essential part of the learning of Indian Constitution and Human Rights film screening, debates and discussions are taking place throughout the month of October, 2022.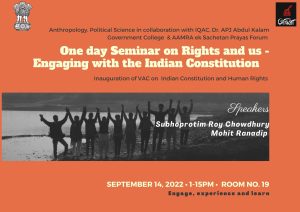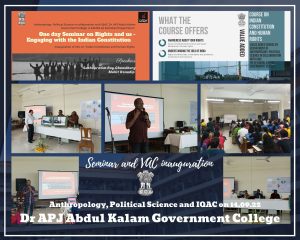 One day seminar on Rights and us – Engaging with the Indian Constitution and Inauguration of VAC on Indian Constitution and Human Rights organised by Department of Anthropology and Political Science, IQAC of the college in collaboration with Activist organisation, AAMRA ek sachetan prayas forum, on 14.09.2022
A value added course is introduced by the Department of Anthropology and Political Science in collaboration with IQAC for the students for free. For more details of the programme scan the QR code or click here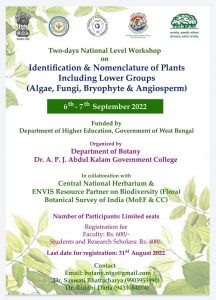 Two day National Level workshop on Identification and Nomenclature of Plants Including Lower Groups, organised by Department of Botany, Dr. APJ Abdul Kalam Government College in collaboration with Cental National Herbarium & ENVIS Resource Partner on Biodiversity (Flora), Botanical Survey of India (MoEF & CC)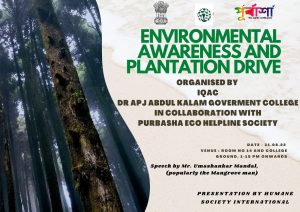 A one day seminar on Environmental Awareness and Plantation drive is organised by IQAC on 31.08.2022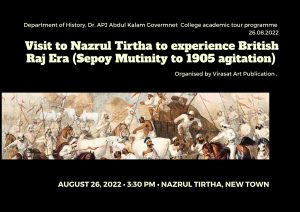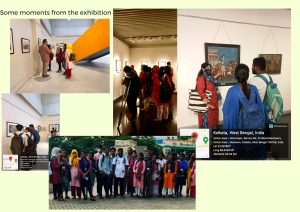 Department of History has taken their students for an academic tour to see and experience the exhibition at Nazrul Tirtha on 26.08.2022. The exhibition was on British Raj Era from Sepoy Mutinity to 1905 Agitation. The detail of the exhibition is available here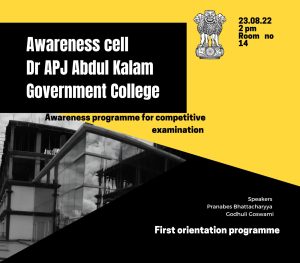 An awareness programme for competitive examination was organised by awareness cell on 23.08.22. various opportunities for a graduate student was discussed by Pranabes Bhattacharyya and Godhuli Goswami.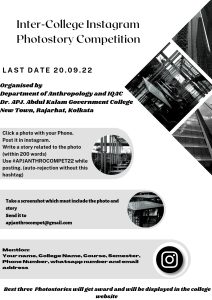 Inter-College Photostory competition organised by Department of Anthropology in collaboration with IQAC of the college to see the entries log-in to instagram and follow #apjanthrocompet22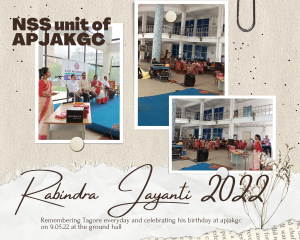 On 9th May, 2022, the NSS unit and the Cultural Committee of Dr. A.P.J Abdul Kalam Govt College jointly organized Rabindra Jayanti where the 161st birth anniversary of Rabindranath Tagore was celebrated.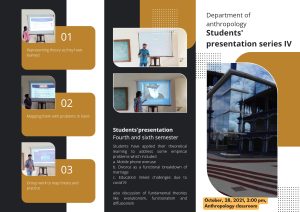 The department of Anthropology has organised the students' presentation series IV on October 28 at the department. Students have engaged with the theories and have tried to formulate empirical problems with them.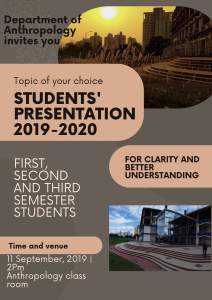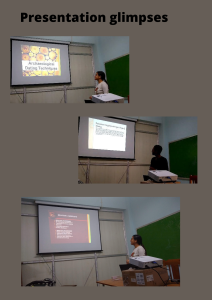 The student's presentation series III (2019-2020) by the Department of Anthropology is organised on 11th September 2019 at 2 pm at the departmental class room.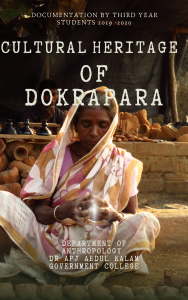 The third year Honours students of the Department of Anthropology has documented the "cultural heritage of Dokra manufacture" at Dokrapara village in Gushkara, Purba Bardhaman district of the state. A detailed report of their documentation of the disappearing age old technology and present condition of the village is available here, click here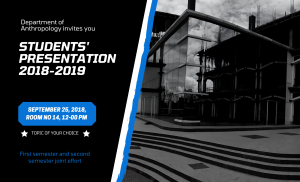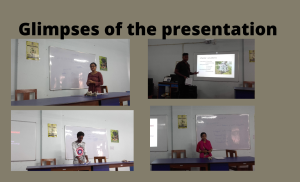 The Students' Presentation Series II (2018-2019) by the Department of Anthropology is organised on 25th September 2018 at Room No. 14.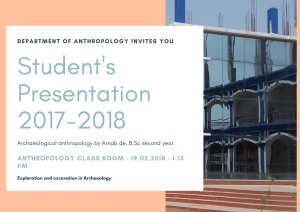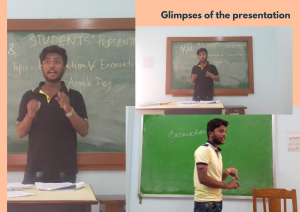 The Students' Presentation Series I (2017-2018) by the Department of Anthropology is organised on 19th February 2018 at the Departmental Classroom