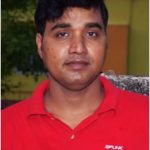 Designation: Assistant Professor
Department: Zoology
Qualification: M. Sc. (C.U.), Ph. D. (CSIR, IICB)
E-mail: samir.14.bio@gmail.com
Research Interest:
G-quadruplexes are four-stranded nucleic acid structures involved in a wide range of human malignancies. Stabilization of the G-quadruplex structure act as transcriptional repressor and efficiently inhibit cancer cell growth represent an emerging field of therapeutic target in oncology. We aim to evaluate the binding studies and the molecular mechanism of cancer cell growth inhibition by these novel ligands using different biophysical and core molecular biological techniques.
Different parts or extract of medicinal plant are widely used as a traditional medicine in many Asian countries. These herbal alternatives are one of the best ways to minimize many disease conditions. The beneficial claims have to some extent been correlated with the different compounds present in different parts of the plant with varied concentrations. Hence, it is important to isolate and identify the main protective principle present in these medicinal plants. For this we have also aimed to identify the active compounds of herbal plant extract in different disease condition both in vivo and in vitro. Recently we have found 14-Deoxyandrographolide (14-DAG) a bioactive diterpenoid present in Aandrographis paniculata, to be most effective against ethanol-induced hepetotoxicity in comparison to other diterpenoids present in the plant.
Publications:
Ajay Chauhana, Rakesh Paul, Manish Debnathb, Irene Bessi, Samir Mandal, Harald Schwalbe, Jyotirmayee Dash. Synthesis of Fluorescent Binaphthyl Amines That Bind c‑MYC G‑Quadruplex DNA and Repress c‑MYC Expression. Journal of Medicinal Chemistry 59, 7275–7281; 2016.
Deepanjan Panda, Manish Debnathb, Samir Mandal, Irene Bessi, Harald Schwalbe Jyotirmayee Dash. A Nucleus-Imaging Probe That Selectively Stabilizes a Minor Conformation of c-MYC G-quadruplex and Down-regulates c-MYC Transcription in Human Cancer Cells. Scientific Reports 5,1-16; 2015.
Ajay Chauhana, Sushovan Paladhi, Manish Debnathb, Samir Mandal, Rabindra Nath Das, Sudipta Bhowmik, Jyotirmayee Dash. A small molecule peptidomimetic that binds to c-KIT1 G-quadruplex and exhibits antiproliferative properties in cancer cells. Bioorganic & Medicinal Chemistry 22, 4422-4429; 2014.
Samir Mandal, Sibabrata Mukhopadhyay, Gargi Sen, Tuli Biswas. 14-Deoxyandrographolide alleviates ethanol-induced hepatosteatosis through stimulation of AMP-activated protein kinase activity in rats. Alcohol xxx, 1-10; 2014.
Samir Mandal, Vinod Kumar Nelson, Sibabrata Mukhopadhyay, Sukhdev Banerjee, Lakshmi Maganti, Nanda Ghoshal, Gargi Sen, Tuli Biswas 14-Deoxyandrographolide targets adenylate cyclase and prevents ethanol-induced liver injury through constitutive NOS dependent reduced redox signaling in rats. Food and Chemical Toxicology 59, 236–248; 2013.
Samir Mandal, Tanmay Samanta, Koushik Bhandari, Adinpunya Mitra, Bijoy Chandra Ghosh Vinod Kumar Nelson, Gargi Sen, Tuli Biswas. Protective effect of tea against copper (Cu) toxicity in erythrocytes. International Journal of Tea Science 9, 12-25; 2013.
Avik Sarkar, Dipanwita Sengupta, Samir Mandal, Gargi Sen, Kaustav Dutta Chowdhury, Gobinda Chandra Sadhukhan. Treatment with Garlic Restores Membrane Thiol Content and Ameliorates Lead Induced Early Death of Erythrocytes in Mice. Environmental Toxicology DOI 10.1002/tox, 1-14; 2013.
Samir Mandal, Sudip Mukherjee, Kaustav Dutta Chowdhury, Avik Sarkar, Kankana Basu,Soumosish Paul, Debasish Karmakar, Mahasweta Chatterjee, Tuli Biswas, Gobinda Chandra Sadhukhan, Gargi Sen. S-allyl cysteine in combination with clotrimazole downregulates Fas induced apoptotic events in erythrocytes of mice exposed to lead. Biochimica et Biophysica Acta 1820, 9–23; 2012.
Dijendra Nath Roy, Samir Mandal, Gargi Sen, Sibabrata Mukhopadhyay, Tuli Biswas. 14-deoxyandrographolide desensitizes hepatocytes to TNFα induced apoptosis through calcium dependent TNFR1 release via NO/cGMP pathway. British journal of Pharmacology 160, 1823–1843;
Dijendra Nath Roy, Samir Mandal, Gargi Sen, Tuli Biswas.Superoxide anion mediated mitochondrial dysfunction leads to hepatocyte apoptosis preferentially in the periportal region during copper toxicity in rats. Chemico-Biological Interactions 182, 136-147; 2009.