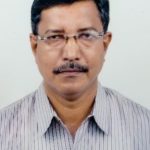 Designation: Associate Professor
Department: Zoology
Qualification: M. Sc., Ph.D.
Area of Specialization: Environmental Physiology and Toxicology
E-mail: tuhin_da@yahoo.co.in
Dr. Tuhin Kumar Saha did B.Sc (1983) and M.Sc (1985) from Visva-Bharati University and got first divisions in both . His special paper was Environmental Physiology and Toxicology . Having qualified NET in 1986 , he joined Environmental Physiology laboratory of Prof. Asit Baran Das in a CSIR project as a Junior research fellow in 1986 . He was awarded Ph.D degree in September , 1993 . The title of the Ph.D thesis was "Effect of a sub-lethal concentration of ambient ammonia-nitrogen on protein metabolism of an Indian air-breathing fish , Channa punctatus (Bloch)". Alteration in the seasonal protein levels in different tissues were experimentally designed to be explained through incorporation of 14C-leucine and rates of protein synthesis and breakdown .
Prior to joining this service (WBES) , he worked as CSIR Research Associate and then lecturer in a non Government college for two and half years . He joined WBES on December, 1999. His first posting in WBES was in Krishnanagar Government College where he served till May , 2007 . His next posting was in Darjeeling Government College where he served till August , 2011 . He was then posted to Barasat Government College where he served till July , 2016 . Dr. A.P.J. Abdul Kalam Government College, Newtown , is his present posting .
He has taught in undergraduate classes for over 20 years and in post-graduate classes for 10 years .
Research Publications:
T.K Saha , M.B . Arya and A.B . Das ( 1994 ) Alterations in the patterns of nitrogenous excretion in a freshwater air-breathing teleost , Channa punctatus (Bloch) , during ammonia stress. Indian Journal of experimental Biology , Vol 32 , March 1994 , pp 196 -199
T.K.Saha and A.B.Das (1994) . Effect of ammonia – stress on the total autolytic levels of proteins in tissues of an air-breathing fish , Channa punctatus (Bloch) . J Biosci. Vol 19 , Number 3 , September 1994 , pp 301-306
T.K Saha , N.P das, M.B . Arya and A.B . Das (1995) . Effect of ammonia stress on the tissue levels of nitrogenous bio-molecules of the air-breathing fish , Channa punctatus (Bloch) . Indian Journal of experimental Biology . Vol 33 , Dec 95 , pp 943-95
Tuhin Kumar Saha (2006). Emerging Diseases : Accidents of nature or man – made illness ? . Combating Disaster : Perspectives in the new millennium in Proceedings of National Seminar on Disaster and its management , Krishnanagar Government College , 2006
Seminar/workshops
Annual Session of the National Academy of Sciences , India held at Indian Institute of Science , Bangalore , Nov 24-26 , 1993
National Seminar on Fish Biology , Department of Zoology , Visva Bharati University , Santiniketan , Jan 27 & 28 , 1995
Short Course on "Recent Advances in Freshwater Aquaculture" , Central Institute of Freshwater Aquaculture , Kausalyaganga , Bhubaneshwar , 30th May to 8th June , 1995
Nutrient Management in Aquaculture , Institute of Agriculture , Visva Bharati 9-15 July , 1995
UGC sponsored Orientation program ( Academic Staff College , University of Calcutta , July 24 , 2001 to August 23 , 2001)
National Seminar on current trends in research at cross roads of physics , chemistry and biology – UGC sponsored , Scottish Church College , Kolkata 20th Dec ,2003
Relevance of Conventional subject : present scenario – (UGC sponsored , Sanskrit College , Jan 24 , 2004)
UGC sponsored Refresher Course in Life Science ( Academic Staff College , University of Calcutta , Dec 02 to Dec 22 , 2004 )
UGC sponsored seminar on "Issues of autonomy in Government Colleges" , Sanskrit College Kolkata , Jan 27, 2007
Refresher Course on Life Science , UGC sponsored , Department of Botany , University of Calcutta , Feb 5th to Feb 24th , 2007.
National Seminar on Disaster and its management : perspective and future approaches (UGC sponsored , Krishnanagar Government College , April 16-17 , 2007)
UGC sponsored national seminar on " Inclusive Education : Challenges ahead in higher education ", Presidency College , Kolkata , 23 rd Jan , 2010 .
Workshop for orientation and training in ecological field studies and documentation of biodiversity ,West Bengal State University, Nov 2011